... and a couple of projects
eCommunications
As the UK&I representative of Kansas/Oklahoma Travel&Tourism, I launched a project to develop communication with the UK&Ireland's travel profession, creating and publishing a quarterly eBulletin.
Click here to view a recent edition of Kansas/Oklahoma Headlines
PR + news management
The UK travel community and their air-travelling clients are fighting a long-term battle with the Government – to limit and ultimately eliminate APD Air Passenger Duty, which is amongst the highest taxes of its type in the world, and extremely damaging to both travel sector revenues and the general economy.
As SPAA Scottish Passenger Agents' Association publisher, I am deeply involved in the Association's ongoing campaign against APD – in helping to develop strategy, engage public perception and produce coherent and effective communication.
Click here to view the End APD – Keep Scotland Flying campaign logo
To view a couple of related News Releases, click here / click here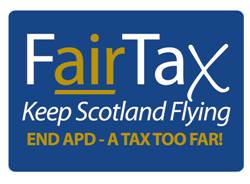 Copy-writing
In co-operation with STAN Scottish Travel Agents' News, I created a three-strand portfolio of short, regular articles which appeared in the publication for nearly 5 years
Professional : click here to view a typical article
The Evolving Travel Agent : click here to view a typical article
Briefing : click here to view a typical article
Compliance consultancy
As the employment legislation has become more and more complex, and the commercial environment more and more challenging, travel agencies have found it increasingly helpful to offer employees the required 'statement of terms and conditions of employment' in the form of a mutually-agreed Contract of Employment. This provides safeguards for both employer and employee, when properly introduced and maintained, and The Bates Consultancy has a significant number of bespoke Contracts in circulation throughout Scotland's travel community.
To view an example of a typical bespoke Contract of Employment, click here